Listed in Arts & Crafts, Counsellors & Therapists, New Age Professionals - eg Psychics
Springfield Road, Christchurch, New Zealand
02040004368
---
Jill Maree – Clairvoyant, Psychic Medium, Artist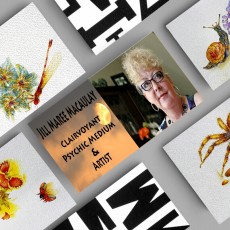 Hello there. I'm Jill Maree. I am in my young at heart 50's, with over 20 years experience guiding people on their spiritual journey.
I am as passionate about helping people in their spiritual journey as I am about my Art. I am a keen watercolour artist in my spare time.
Each reading is done in a caring, supportive and gentle way. Always the information I'm given is often pleasantly surprising, often answering questions you didn't know you had.
I have a townhouse in St Albans in Christchurch, New Zealand, and if the weather is nice we can do your reading in my lovely courtyard garden.
Take a leap of faith and put your hearts desire into action.
Love; does everybody else but you seem happy?? Are you disillusioned or are you really happy in love but wonder if its your soulmate? Get answers now.
Work Issues; find a clear resolution to empower you to make important decisions on your career.
Home; family concerns? Let me help you gain an insight on the problems you are facing and an immediate solution.
Finances; money a problem? Overcome your financial hurdles, with a definite direction and action you will need to take. Maybe a windfall is on the way?
Future; are you lacking purpose in your life and feel you're not moving forward? Let me show you your true pathway and everything that is positive and new on your horizon.
Consultations Cost 
$50.00 = 30 minutes
$70.00 = 60 minutes
Looking forward to meeting you soon.
Jill Maree, Artist
I am a self-taught watercolour artist, I have spent many years fine-tuning my work to get to the standard displayed on my listing with Face of Business.
These are some original watercolours that were commissioned by a drama teacher to be put together for a children's book to be used with music in drama classes.
There are 12 paintings, some of which you can view here.  The project was very exciting and challenging, something I would definitely do again.
The paintings measure 50cmx25cm and are unframed,  Some of these paintings are for sale.  P.O.A.
I undertake commissions, always working closely with the client every step.  So if you are looking for a unique customised gift, that will increase in value, then contact me.
My work has also been accepted by the Bryce Gallery in Christchurch, which is a fine art contemporary gallery.
My subject matter is flowers, insects, butterflies, and small creatures,  But I am always looking to expand my range.  It just takes your imagination.
I look forward to creating something unique and timeless for you.